What is the Jared Pratt Family Association?
The Jared Pratt Family Association, founded in 1881, is one of the oldest family history organizations in the nation. Jared Pratt (1769-1839) was the father of one daughter and five sons–Anson, William, Parley, Orson and Nelson–four of whom joined the early Mormon Church. One of these sons, Orson Pratt, founded the association in order to engage in ancestral genealogy research, as well as to keep track of the Pratt descendants. He gave this charge to the family:
"This record is written, to be handed down to future generations, not only to preserve the genealogy of my forefathers, but to collect and register therein, from generation to generation, the dates of births, marriages, places of residence and deaths of all the descendants of my four brothers and myself. . . . It is to be hoped that all our posterity of whatever branch or name will be sufficiently interested to preserve their genealogy to the latest generation."
"Lost Sermon" of Parley P. Pratt
The Church History Department released last week a "lost sermon" of Parley P. Pratt–his report of his mission to Chile, which he delivered in the Tabernacle on October 31, 1852. The sermon was taken down by Church scribe George D. Watt in shorthand and was never published. The sermon was recently transcribed from the original shorthand by an expert in nineteenth-century shorthand. In other words, until very recently, this wonderful sermon has never been read since it was given by Parley in 1852, 161 years ago! Check it out: http://history.lds.org/article/lost-sermons-parley-p-pratt-october-1852?lang=eng
Parley P. Pratt: The Apostle Paul of Mormonism – NOW AVAILABLE!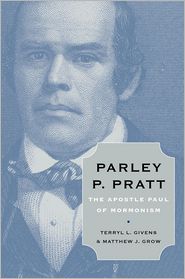 The first scholarly biography of Parley P. Pratt is now available from Oxford University Press—titled Parley P. Pratt: The Apostle Paul of Mormonism by Terryl Givens and Matt Grow, one of our family historians.
The Jared Pratt Family Association worked with Oxford University Press to run a special printing of 1000 books for the family!  Each of these books is also autographed by Matt Grow.  While the normal retail price is $34.95, the Association is selling the books for just $24 while supplies last.
Price: $24 each
Shipping: $2.50 (1-3 books); $5.00 (4-6 books); $7.50 (7+ books)
You may also pay by check by sending in this order form.
The Five Pratt Brothers: Builders of Zion DVD – FREE SHIPPING!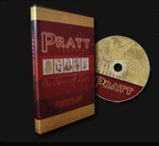 The five Pratt brothers were major players in some of the most significant events of the Nineteenth Century in America. With more than one thousand pictures and video footage from where the brothers lived and traveled, their fascinating stories are told by scholars and others who are familiar with their lives. The brothers also tell their story in their own words, through journals, autobiographies and letters. More->
Price: $12 each
Shipping: Free!
Effort to Find and Move Parley's Remains to Utah
In the last couple of years, a major effort was undertaken to find and move the remains of Parley P. Pratt from Arkansas to Utah, in fulfilment of his dying wish. Read the articles and see the pictures of the effort and results.