Instructions for ordering books and DVDs
Below are some of the items for sale by the Jared Pratt Family Association.  You can use the "Buy Now" buttons to purchase with a credit card or you can pay by check by sending in this order form.  We currently only ship items to the United States; if you are interested in an international order, please contact us at jaredprattfamily@gmail.com.
Parley P. Pratt: The Apostle Paul of Mormonism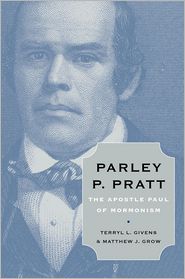 The first scholarly biography of Parley P. Pratt is now available from Oxford University Press—titled Parley P. Pratt: The Apostle Paul of Mormonism by Terryl Givens and Matt Grow, one of our family historians.
The Jared Pratt Family Association worked with Oxford University Press to run a special printing of 1000 books for the family!  Each of these books is also autographed by Matt Grow.  While the normal retail price is $34.95, the Association is selling the books for just $24 while supplies last.
Price: $24 each
Shipping: $2.50 (1-3 books); $5.00 (4-6 books); $7.50 (7+ books)
The Five Pratt Brothers: Builders of Zion DVD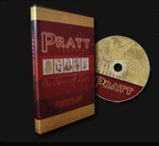 The five Pratt brothers were major players in some of the most significant events of the Nineteenth Century in America. With more than one thousand pictures and video footage from where the brothers lived and traveled, their fascinating stories are told by scholars and others who are familiar with their lives. The brothers also tell their story in their own words, through journals, autobiographies and letters. More->
Price: $12 each
Shipping: Free!
Pratt Photo Project DVD Set


Over the past 10-15 years, the Family Association has collected hundreds of high-resolution images of our ancestors. Our collection includes over 300 separate photos of William, Parley, Orson, Nelson, wives, and children (including Anson's children).
All copyrights are cleared for family members for use in any not-for-profit family history publication.  The collection is now available in a 3-DVD set.
Price: $12 each (includes all 3 DVDs)
Shipping: Free!