NOTES ON THE LIFE OF KEZIAH DOWNES PRATT
Compiled by Maxine Driggs Belnap 2007
Keziah Downes was born 10 May 1812, in Rainow, Cheshire, England. Her parents were Edward Downes and Elizabeth Broadhead. Her christening on 9 August 1812 was recorded in the Taxal Parish in Cheshire. Her name was spelled "Kesiah" on her christening record. That spelling is also used on the inscription on the Parley P. Pratt monument in the Salt Lake City Cemetery.. However she used the spelling of "Keziah" on her own endowment record, her sealing to Parley P. Pratt, and LDS church membership records. She also used the spelling of "Kezia" on various records.
The Downes family had resided in the Taxal area for many generations. The histories of the area record the manorial rights enjoyed by the Downes family during Medieval times. When the King visited the manor, Reginald Downes made sure his forests were heavily stocked with deer and other game to be used for the King's pleasure. The manor embraced some 4000 acres. The lords of the manor not only presided over the manorial courts but they served as rectors over the parish church. The Downes Coat of Arms was painted on the wall of the Taxal Church. (Dr.George Ormerod's History of the County Palatine and City of Chester Vol.iii p. 380)
During the Industrial Revolution many of the residents of Rainow moved into areas where factories were established. The city of Manchester was only 15 to 20 miles from Rainow. By 1814 the family was located in Ardwick, Manchester, in Lancashire. Edward and Elizabeth Downes had eleven children. Five died in infancy. Two died before being married. Only three of their children, Mary, Samuel and Hannah had offspring. Even though Keziah was married, there is no record of her having any children. In 1831 her father died. Keziah was nineteen years old at the time. She was married three years later to William Hill, likely in Manchester. Very little is known of William. In 1895 Keziah's niece, Elizabeth Downes Langton, had his baptism and endowment done in the Salt Lake Temple. The record shows him born in 1812 in Manchester, Lancaster, England and died in 1868. Elizabeth was listed as the heir and her relationship to him is given as "niece-in-law." Elizabeth Downes Langton was the daughter of Samuel Downes, a brother to Keziah. Elizabeth was married to Frederick Langton and their daughter Emily Elizabeth Langton married Benjamin W. Driggs Jr., a son of Benjamin W. Driggs Sr. and Olivia Pratt.
After the LDS Church was organized in England, many of the Downes family became members. The Branch records in Manchester gave the baptism dates of those who joined. Keziah was the first to be baptized. The date was 8 April 1842. Samuel was next on 20 July 1842, then Hannah on 27 August 1847 and Mary on 9 June 1851. Their mother, Elizabeth Broadhead Downes was baptized 9 May 1857. The Manchester Branch records showed the address of Keziah, as well as her brother Samuel's family, as 49 Oxford Street. This was the home next to the British Mission Headquarters, which was located at 47 Oxford Street. Parley P. Pratt and his family lived at that same address during their time spent in Manchester.
Shortly after Keziah was baptized she was given a note of recommendation from the Manchester Presiding Elder as follows:
"We give unto this our beloved sister this note of recommendation as a worthy sister in the Church of Jesus Christ of Latter Day Saints and recommend her to your fellowship and esteem, praying that she may be blessed of the Lord. Her name is Keziah Hill. Given under my hands this day, April 10, 1842
Charles Miller, Manchester, Presiding Elder."(MS 2170 Church Historical Library)
About a month later, on 17 May 1842, Keziah Hill removed to Liverpool. (Manchester Branch Record) It is assumed she was planning to emigrate to America at this time. However she didn't actually emigrate until 1851. After arriving in America, she met again with Parley P. Pratt and they were married in the Endowment House two days after Christmas in1853. On 14 February 1854 Keziah was endowed in the Salt Lake Endowment House. Parley and Keziah were sealed again as a couple on 13 October 1855, possibly because when the marriage took place Keziah had not yet been endowed..
In a letter to her husband, Parley, dated 18 Oct 1854, Keziah wrote:
"When Father Walker wrote last to Agatha, he told her that my sister Hannah and her husband and children, together with my dear old mother were on the plains making their way to this place but they have not yet arrived. I rejoiced much at the news as my heart's desire is that every one that is near and dear to me may be gathered to this place to rejoice with me in the light and intelligence of the children of Zion and be prepared for the coming and kingdom of our Lord Jesus Christ. I rejoice much in my present associations, and privileges as a member of the Kingdom of God. I feel well, and happy all the time, and I know that the spirit of the Lord rests upon me, because I am contented and rejoicing all the time and feel as though I floated in the elements of Eternal Truth. I am desirous of walking humbly and acceptably before you, angels, and my Gods, so that I may become worth of a crown and place in the Celestial Kingdom, which favors I ask not only for myself, but for you, and every wife and child which the Lord has given unto you in the worthy name of Jesus Christ Amen." (MS 5037 CHL)
Unfortunately her sister Hannah and family along with her mother never made it to the Salt Lake Valley. Seven years later, in 1861, Hannah and her family were included in the census record of Rainow, England. Elizabeth Braodhead Downes, her mother was living with them. Elizabeth died a few months later in January 1862. Keziah's sister, Mary did come to Utah in 1866. In 1869 they both went to the Endowment House to do temple work for some of their family and friends. It was a joyous time for Keziah to have some of her family in Zion.
One year after Keziah's mother died, she wrote a letter to her brother Samuel encouraging him to come with his family to be with the Saints. She wrote:
I want you and your family to cross the Atlantic this season……if possible, but if you cannot all come this year let one or two of your children come and they will help to provide a house for you to come to. I cannot send any money to you but if you can get them to the Frontiers I will help to get them across the plains and my house shall be their home until they can provide for themselves and I will act as mother's part toward them as far as care and good counsel are concerned you may depend upon it. If once you make a break you will manifest to the Lord your integrity of heart with respect to the gathering which is one of the commandments of the last days. I feel as though you wanted to come and I want to help you all that is in my power. Tell Betsy [Samuel's wife] that she would enjoy herself far better here than she does in England. In fact more independent and as for relations, read the words of the Savior with respect to them. (these are my relatives that do the will of my Father in heaven) Tell her to consider that I have nothing to lean upon but the truth and my own exertions. I am happy because with the help of the Lord I create my own happiness. As a working bee in the hive of Deseret I have no time to be dissatisfied or to watch for inequity in others if they transgress the laws of God…………. Dear Sam, I want you to make every sacrifice to get here, all of you, and if you have to take it rough and ready this way never mind if your heart's all right before the Lord, you will live through it and rejoice that you are counted worthy to pass through some trials for His name's sake. I cannot at present tell you anything about emigration this spring……….any further than Bro. Young says that he intends to call for five hundred teams this year to fetch the poor Saints from the Frontiers. This looks like a tremendous emigration and I have no doubt but that it will be done. The Lord will open a way for His children to gather if it so be as by fire.[?] Prophecy is fast fulfilling as regards to this land and I am not troubled about it only as it affect the misery it brings upon others……..

I have always been thankful that I came out the first chance I had and although I have met with many things very contrary to my feelings in addition to having to toil from day to day for the things which perish, I would not part with this experience I have had and the knowledge I have gained for all the riches of this world. And when I survey my own infirmities and my inability to herald forth the tidings of salvation to the children of men, I wonder, oh I wonder that my Father has shown so much mercy toward me as to lead me even through deep waters as it were and this place where I can drink at the fountain of the rivers of righteousness and peace. Dear Sam, I hope that you and each of you are enjoying good health and that you have again constant employment. ……. My health is not good, I would give considerable to have you near. Now I hope the day is not far distant when we can associate at least daily. My school sustains me comfortably but it is very harassing (to one of my age) consisting chiefly of boys from 9 to 16 years of age, and this together with my cooking, and house work, keeps me very busy all the time. I take but little recreation, because I have no one to go out with. I have attended the theatre some 5 or 6 times and been to 4 social parties this winter so far. I was dancing with Brother Woodruff at the Social Hall on Tuesday evening last. He spoke of you very kindly and wished to be remembered to you……… Dear Sam, let me have the satisfaction of seeing some of your family, if not all this year and I will do all that lies in my power to help you, I must now conclude with my best love to each and every one of you, praying my Heavenly Father to bless you, comfort your heart and build you up in your most holy faith, open up your way that you may gather to this land, where you can come and be filled [?] and prepared for His kingdom and covering up the earth ________??? grant you find______??? perfect salvation which I ask in the name of Jesus Christ, Amen.

Your affectionate Sister,

Kezia

(The original letter is in the LDS Church Historical Library MS362)
Samuel actually did emigrate to Utah but it was thirty two years after the above letter was written and long after Kesiah's death. He came in 1886 without any other family members. His wife Betsy remained in England. Samuel and his sister, Mary enjoyed a happy reunion, but their time together was short lived for Mary died the next year. Samuel died in 1891 in Salt Lake City.
After arriving in the Salt Lake Valley, Keziah made her home within the bounds of the 14th Ward. On 17 September1856, Keziah was called by Bishop Abraham Hoagland, of the 14th Ward to serve as secretary in the newly organized Relief Society organization. She served under Sister Phebe W. Woodruff who was called as the President. (Our Pioneer Heritage Vol 14, p.71)
Even though it was a time of scarcity the organization made contributions to the Perpetual Emigration Fund as well as provided money and wearing apparel to the poor. In the Journal History, under the date 14 May 1857 we learn of some of their activities.
"14th Ward Relief Society second quarter report of this society of which Mrs. Phebe W. Woodruff is President and Mrs. K.D. [Keziah Downes] Pratt, treasurer shows that the sisters of that ward have been energetic in their praiseworthy enterprise. The receipts of the society during the quarter amounted to $200.01 of which $126.00 was donated to the P.E.F. Amount remaining in the treasury $63.56 the balance expended to charitable purposes."
In 1857 a beautiful quilt was made by the 14th Ward Relief Society Sisters. Each Sister designed and embroidered a block for the quilt.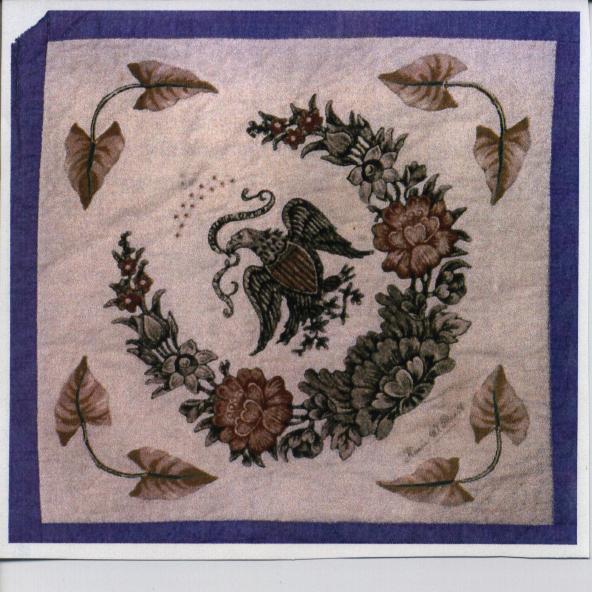 A short sketch of their lives was included with the block. A book on The Salt Lake City 14th Ward Album Quilt, authored by Carol Holindrake Nielson was published in 2004. On page 155 mention is made of a surviving letter, a "memory sketch" of life on the block South of Temple Square." The letter was written in 1949 and recalled a fragment of Kezia's life—at the same time reinforcing her nimble-fingered stitching. The following was included in the letter:
The two room adobe building was the home of Parley Parker Pratt. Here lived Aunt Keziah, wife to him and acting secretary since she had no children. School was held in one room. The ground was the floor. There was one green chair for the teacher who sat with a Spelling book in her lap while knitting a stocking. Children knelt near as she pointed to the letters of the Alphabet with each change of needles.

Kezia's two- room home was visually preserved in a sketch captioned "Aunt Keziah Pratt's Home and School at approximately N.W. Corner 1st So. And Richards St. Salt Lake. The unknown artist flanked the house with trees. An inviting path led up to the front door, beside a single paned window. Richards Street, directly south and mid-center of Temple Square, ran between the property of Kezia's husband and that of the Richards families. Here she lived the remainder of her life. [A copy of this sketch was obtained from the Utah State Archives]

Kezia put pen to paper as school teacher, secretary to the Relief Society, and as the family's "acting secretary." It was she who assisted Parley in writing his autobiography, serving "as copyist." Her service to Parley probably aided in amassing his invaluable religious writing. But after his death, the school became her life."

Although she had no posterity, Pratt children surrounded her, as did the activity of the city and the Fourteenth Ward. "
In the LDS Church Historian's Office is a file listed as the Kezia Downes Pratt Papers 1843-1876 MS2170. Included in the file is the deed to her property. It is described as in block 76 lot #3 Plat "A" Salt Lake City Survey. Even though her home was described as a two room home, it appears from some of the papers that she later built a larger home. There is a rather lengthy list of building supplies ordered by her. She later rented out upstairs rooms as well as basement rooms. There is also mention of a store on her property.
Also included in the file is a letter written by Keziah on Oct 18,1873. It is addressed to the Boston Advertiser Co.
Gentlemen, Seeing your advertisement for agents in the distribution of your $30 maps for 1873 and 1874, and being a widow lady well known in this city, and having considerable leisure time, which I wish to devote to usefulness, I see no reason why I should not interest myself in answer to your call; and I think that with the aid of a boy to carry them around with me, that I could manage to distribute quite a large number of them in a short time, providing that after expenses are paid, I should be remunerated in some degree for my labor.

If references to character and reliability is required, I can give it to your entire satisfaction. Should you incline to accept of my services, you can forward to my address and the sooner the better, as winter is fast approaching with its deep snows here, which of course would retard progress to a considerable extent.

Please answer stating particulars and oblige.

Yours very respectfully,

Kezia D. Pratt

Address—Mrs. Kezia D. Pratt
First South Street
Opposite the Delmonico Hotel
Salt Lake City, Utah Territory
Keziah was included in the 1860 Salt Lake City census. Her age was given as 46 and her birthplace, England. She was living in the 14th Ward in the same household with Eleanor Pratt. They were both still living in the 14th Ward, when the 1870 census was taken. Keziah listed her age as 58 years old and her birthplace, England.
Keziah died January 11, 1877 at the age of 64. Her obituary was published in the 24th of January, 1877 issue of the Deseret News, and reads as follows:
"Died at her residence in the 14th Ward of this city, January 11, 1877 of consumption and dropsy, Kezia Downes, wife of the late Parley P. Pratt. Deceased was born May 10, 1812 at Rainow, Cheshire, England, was baptized in 1842 by Elder P.P. Pratt; gathered to this country in 1851;was much esteemed in life and died firm in the faith of the gospel."
Keziah is buried in Plat B-11-1 ROD-So in the Salt Lake City Cemetery.
[Written and compiled by Maxine Belnap, Dec. 2007]