Death Certificate of Culbert King
Oct. 26, 1909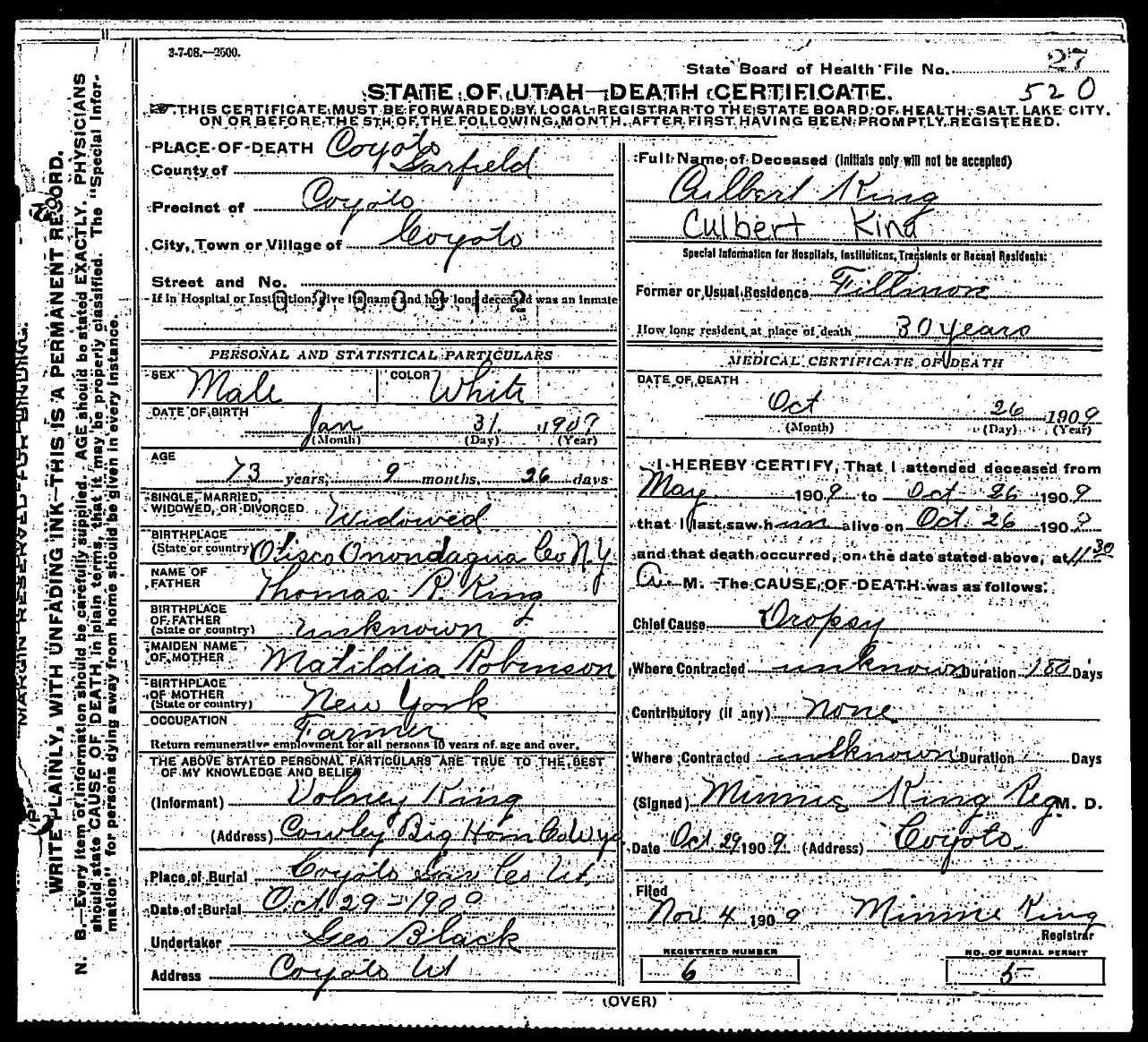 (click to enlarge)
State of Utah—Death Certificate
Place of Death
County of Garfield
Precinct of Coyote
City of Coyote
Full Name of Deceased: Culbert King
Former or Usual Residence: Fillmore
How long resident at place of death: 30 years
Personal and Statistical Particulars
Sex: Male
Color: White
Date of Birth: Jan. 31
Age: 73 years, 9 months, 26 days
Single, Married, Widowed, or Divorced: Widowed
Birthplace: Otisco Onondagna Co. N.Y.
Name of Father: Thomas R. King
Birthplace of Father: unknown
Maiden Name of Mother: Matildia Robinson
Birthplace of Mother: New York
Occupation: Farmer
Informant: Volney King
Address: Cowley Big Horn —–
Place of Burial: Coyote Garfield, Ut.
Date of Burial: Oct. 29, 1909
Undertaker: Geo. Black
Address: Coyote, Ut
Medical Certificate of Death
Date of Death: Oct. 26, 1909
I Hereby Certify, That I attended deceased from May 1909 to Oct. 26, 1909 that I last saw him alive on Oct. 26, 1909 and that death occurred, on the date stated above, at 11:30 a.m.
The cause of death was as follows:
Chief Cause: Dropsy
Where Contracted: unknown
Duration: 180 Days
Contributory: none
Signed: Minnie King Reg., M.D.
Date: Oct. 29, 1909  Address: Coyote
Filed: Nov. 4, 1909